NMN
Nicotinamide mononucleotide
Stabilized Nicotinamide mononucleotide (NMN) is associated with DNA repair, stimulation of sirtuins and a positive effect on the mtiochondria (energy supply of the cells). Perhaps the most important thing NMN is used for is to increase the NAD + level. NAD + is known as one of the most important keys against aging.
Purity certificate
With NMN it is important to know what you are buying. We engaged NedLab (an independent Dutch laboratory) for this. This test shows a purity of 99.9% for our stabilized NMN. The purity certificate is attached to the photos of the product in our web store. Our NMN is kept cool for preventive preservation of quality.
Vegetarian gastric capsules capsules
The acid of the stomach can influence the NMN, which is why we use vegetarian gastric resistant capsules (enteric capsules).
Sirtuins
Nicotinamide Mononucleotide as an activator of Sertuins (family of proteins). These can play a key role in slowing down aging. Sirtuins regulate the uptake and processing of fuel in the cells. This is an important factor in the increase of energy.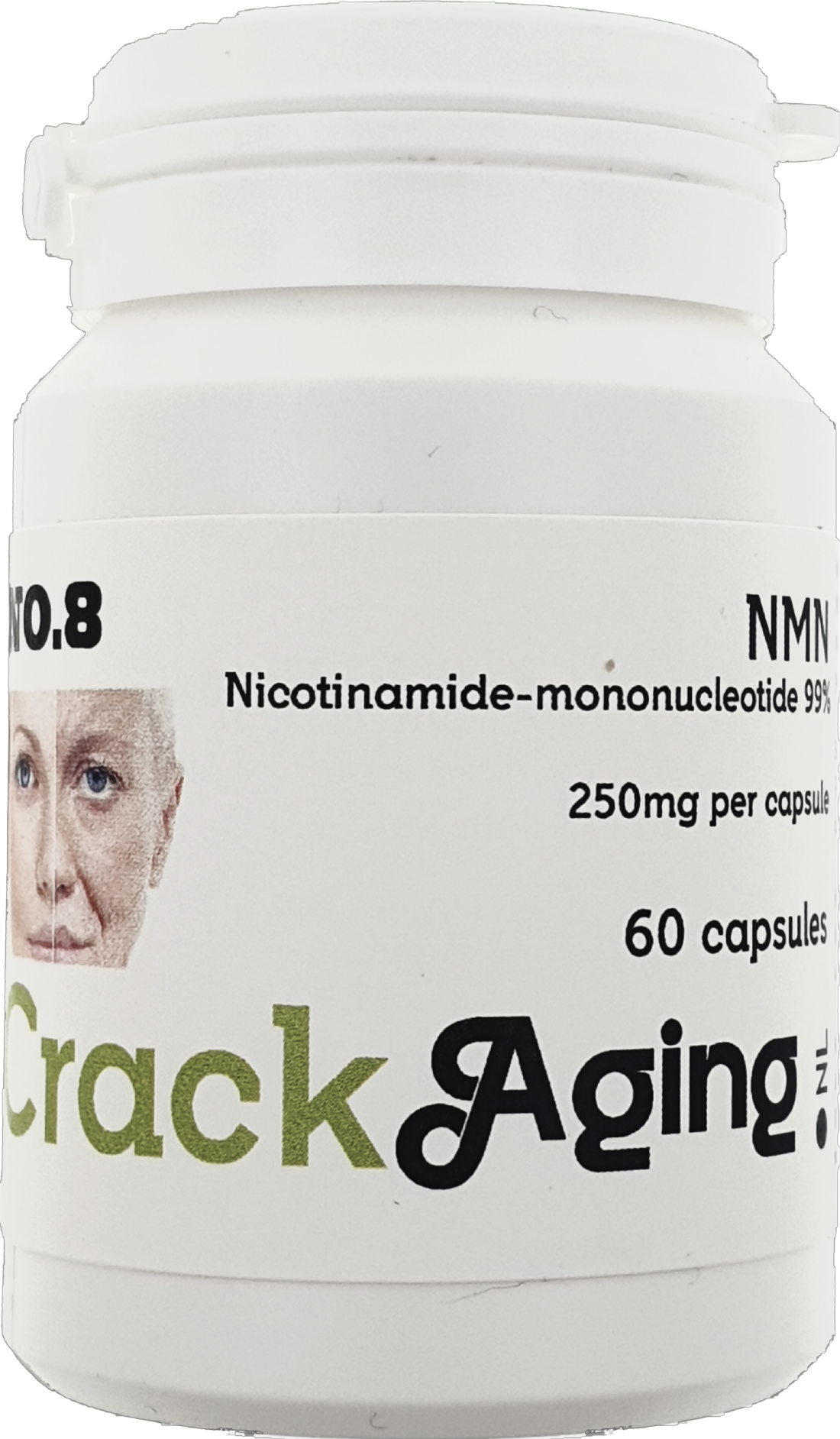 NMN with Resveratrol
Nicotinamide Mononucleotide (NMN) works well with Resveratrol. NMN activates Resveratrol like a gas pedal, according to Professor David Sinclair (who works at Harvard Medical School USA).
Orders above € 90, - free shipping.
* Disclaimer
The crackaging.nl website has been carefully composed in accordance with the current state of knowledge. Please note that exact results can not be guaranteed and may vary per person. We are not responsible for the information, from third-party sites that are linked to.
​

-23%

NMN 150mg + Resveratrol 150mg

Content:

- 150mg stabilized NMN Nicotinamide Mononucleotide 99% + 150mg Resveratrol 99% a capsule

- Vegetarian capsule

- 60 capsules

- With 3th party 99.9% purity certificate, tested with NedLab (European, Dutch…

€ 64,00 € 49,00

-30%

NMN 250mg

Content:

- 250mg stabilized NMN Nicotinamide Mononucleotide 99% a capsule

- Vegetarian gastric resistant capsule (enteric capsules)

- 60 capsules

- With 3th party 99.9% purity certificate, tested with NedLab (European, Dutch…

€ 99,00 € 69,00